It's What You Expect A Las Vegas Revue To Be...


CELEBRATING OUR 11th YEAR TOURING!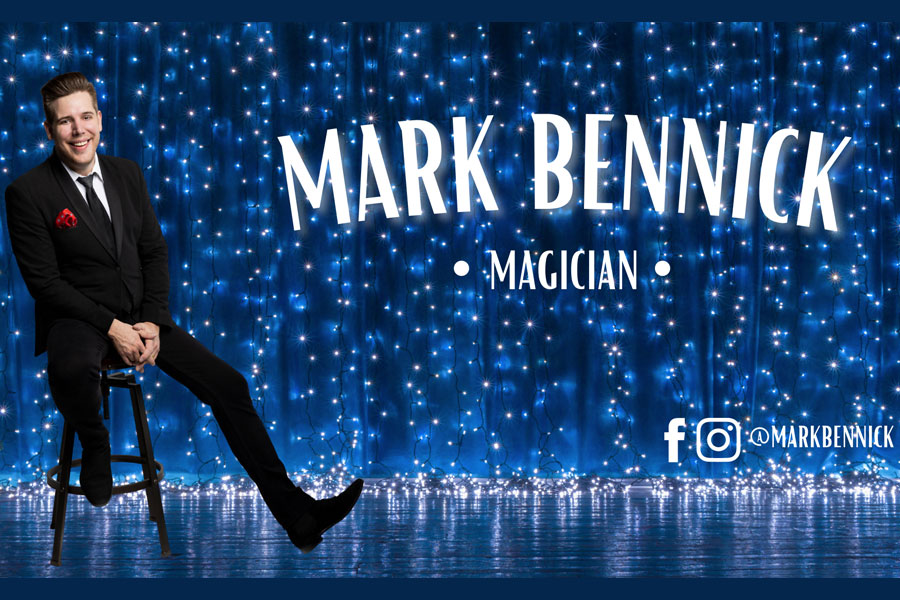 Mark Bennick
One of Our Very, Special Guest HostÕs

You have seen Mark Bennick on The last 3 seasons of the CW's Hit TV Show 'Masters of Illusions', History Channel's HIT show 'Pawn Stars' and HBO's 'Showtime at The Apollo' Mark has performed around the world, across 4 continents in 10 countries and at the world-famous Magic Castle in Hollywood.

He is a champion Magician that entertains audiences with his astonishing illusions, wit and charm. Not only is Mark's performance creative and impressive but always entertaining to audiences of all ages, literally bringing them to their feet time and time again! Whether he is blowing your mind with his grand illusions or his fun-filled audience participation tricks, this winner of "Las Vegas Has Talent" is one entertainer your audience will never forget.

He has brought his show to many Las Vegas hotels...the Tropicana, Stardust, Mirage, Paris and The Orleans and travelled to Egypt, Korea, Greece, China and Israel. The great thing about Mark's performance is that he is International...he can perform to an all-American crowd or a completely International audience. DIRECT from LAS VEGAS!!
OUR BEAUTIFUL DANCERS
Bambi Wild – Our Special Guest Star is an International Playboy Playmate and FHM Model!

This beautiful blonde bombshell is a major International Burlesque performer who really just does it all! She has mastered incorporating her variety of talents into her many performances all while giving the audience a great and deliciously unforgettable, classic strip tease!

Her fun and outgoing personality is on full display (among other things?) and has performed in numerous shows all over the World, including Las Vegas.
Melissa ~ Our Dance Captain

We are proud to call this beautiful woman our Dance Captain! Melissa started dancing and training at a young age and now has been dancing professionally for over 15 years! One of the many things she has gained from that is a tremendous amount of training and experience in live performances! She preformed in some of the largest and most respected shows in Las Vegas, including Splash.

Her credits also include dancing at the VMAs, Bette Midler, Meatloaf and of course the HayekÕs touring productions! In the very beginning of her career, Melissa toured all over the state of Florida dancing at all the musical theatres. Now coming full circle, she is very excited to be back in her home state of Florida ready to utilize everything she's learned over the last decade and to work full time with Pure TalentÕs exciting Productions!
Riquette ~ Cast Dancer

This stunning blonde hair, green eyed beauty is a very talented dancer, Aerialist and chorographer!

Riquette has earned her BA in Applied Dance from the University of Florida and has 14 years of experience in Jazz, Hip Hop, Ballet, Modern dance and Contemporary dance.

She is a strong dancer who always keeps the audience enticed and excited with her talent and outgoing personality. Riquette has perfected the art of burlesque and is mesmerizing to watch on stage or in the air!
Nycole ~ Cast Dancer

Such a beautiful and talented performer! She has held the titles of, dancer, dance captain and choreographer in numerous live stage performances. Some of her Film and TV appearances are, The Latin Music Awards, Step Up Revolution Movie and Dance Your Ass Off – The Orlando Predators. A few of this multi-talented woman's special skills and training are in Hip Hop, Contemporary, Jazz, Ballet, Partnering, Ballroom, Heels, Spanish Web, Lyra and too many more to include here!

In addition to performing in several of the shows production numbers, Nycole has a featured solo performance that is exceptionally exciting to watch! Check out the one minute promo video for the show to see a clip of Nycoles solo.
Ashley ~ Cast Dancer


This young lady comes to us all the way from Iowa and has quite the resume; she sings, dances and acts! Her dance education is from the prestigious AMDA College and Conservatory of the Performing Arts in Los Angeles, CA! Before that she studied at Westside Dance Academy in Iowa from 2004 to 2016 (and she is only in her early 20Õs) She is proficient in Ballet, Jazz, Modern Hip-Hop, Contemporary, Tap and Broadway. You have seen her on World of Dance Chicago, Chorographers Carnival, Raise The Barre and in the Human Nature show as a featured dancer.

She started out as an actress for of sister show and we quickly saw what this beauty brings to the table. We feature Ashley in the Dreamgirls Burlesque Revue and her expertise for her style of dance is really something to see! We donÕt want to give too much away; youÕll just have to come see a show to see exactly what that is.
Katie ~ Cast Dancer

Katie comes to us from the big state of Texas. She began dancing at the early age of three and is classically trained in ballet, jazz, hip-hop, poms, lyrical, contemporary, ballroom, and Broadway styles.

She grew up performing in musical theater, starring in such productions as The Wizard of Oz, Grease, and Footloose. After graduating Magna Cum Laude from Arizona State University with a B.A. in Broadcast Journalism, Katie moved to Las Vegas to pursue her true passion of professional dance.

She has performed on stages with Jennifer Lopez, Snoop Dog, and had the honor of dancing at The Michael Jackson Family Foundation Charity Event, working with the Jackson family.


Molleigh ~ Cast Dancer

A very talented dancer that has many quality stage performances to talk about, like, Vegas! The Show performing in Las Vegas to being an NBA Orlando Magic Dancer for 3 seasons! Some of her television appearances as a dancer are: Latin Billboard Awards, MAO Miss Mississippi Pageant and Marc Anthonys Halftime show. Molleigh performed as a dancer at the NBA Global Games in both Brazil and Mexico City. Seriously, she does it all!
Megan ~ Cast Dancer

Full Bio coming soon Š Musical Theater Graduate. She sings in the show and it is fabulous!